Joined

Jul 9, 2013
Messages

833
Reaction score

810
At this point for me, it's less of a tradition to keep a log than it is to start one. Half of the posts on Tamatalk are just going to be all my unfinished logs! ;A; But not this time, my dear readers. For I have dug out a Tamagotchi version that is very special to me, and with... a lot of hesitation, actually, have started it up for the first time in what feels like forever!
As the title may give away, I am running (and logging!) my pink iD L! Back when I first joined Tamatalk, these were very popular, and also 
everywhere 
unlike the listings you see today. I got both my iD Ls - the aforementioned pink version and my now-rare Princess Spacey ver - back in 2013 for less than $100 each, and I'm glad I did because nowadays, oh boy do you have to sell your own soul to get your hands on one mint in box.
Of course, this comes with its own issues - being that I've had these for seven years now, they've accumulated a ton of scratches, which is where most of my hesitation comes from. For those who aren't in the know, colour Tamagotchis - particularly their screens - are highly prone to scratches if you're not careful, and they can show up real easily on the screen as these annoying rainbow-like textures.
My 4U and m!xs have managed to stay safe, luckily, but my iD Ls and my precious little P's have not had the same luck nor fortune. And don't even get me started on their front faceplates - I'd be able to actually afford a mint iD L with the amount of scratches they have.
However, it 
is 
all cosmetic in the end. And it's not like I'm ever getting a new iD L unless I risk it for a used version, so I may as well take you all down with me. I've got a Pac-Man Anniversary Mini/Nano in the mail right now as we speak, so with a little patience I'll hopefully be able to log it soon!
 Let's begin!
~*~*~*~*~*~
iD L
I put some new batteries in a few days ago, and was welcomed by a little 
Kingyobotchi!
 For those not in the know, they are the best-care female toddler character on the iD L. I also discovered that my iD L was on its 3rd generation last time I played it - I had previously raised a Kikitchi and an Agetchi, respectively, both of which are bad-care adult characters.
Determined to take good care of my next Tamagotchi, I proceeded to get the next highest-care teenager, 
Painaputchi
 - and didn't look at a growth chart, which is extremely rare for me! I ended up raising an adorable little Chamametchi: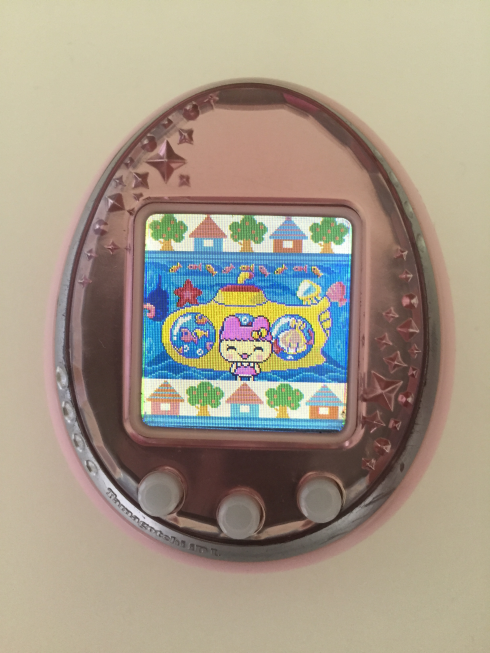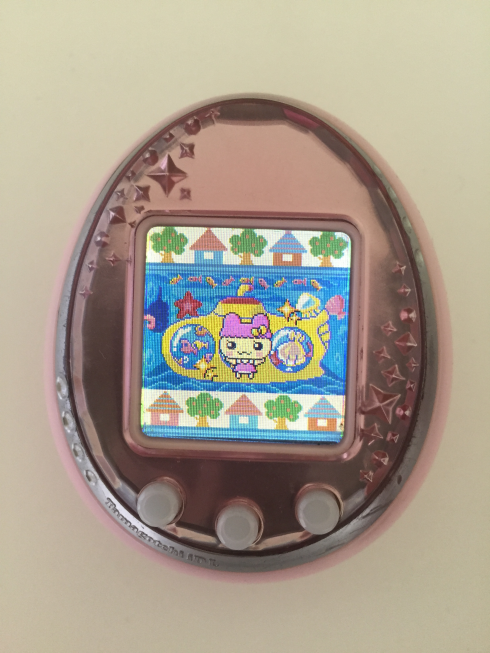 I forgot how photogenic the iD L was. You can't even see any of the scratches on it's screen!
(While writing this, I realized I hadn't given Chamametchi a name yet! I searched up the nearest random name generator, and blessed her with the title of 
London.
)
While Chamametchi isn't the...
highest 
care character out there, she's still very cute (and not a teen, strangely). I decided to go for her 
Tamatomo Stamps 
- for those who don't have an iD L, every adult 'gotchi has three special likes that cause them to do a cute little animation + give you what's dubbed a Tamatomo Stamp. You earn the last Tamatomo stamp by having your adult-stage Tamagotchi for 72 hours (or, at least 5 years old, if I recall correctly). You can earn any Tamatomo Stamp in any order, and they're a fun little incentive to spend more time with your tama! Plus, it also gets them stamped in the memory book (which is how I discovered the previous tamas I raised), as well as a bonus cutscene when they get married. 
Anyway, I decided to go for London's Tamatomo Stamps straight away! We decided to head to the park, as the market was currently being held: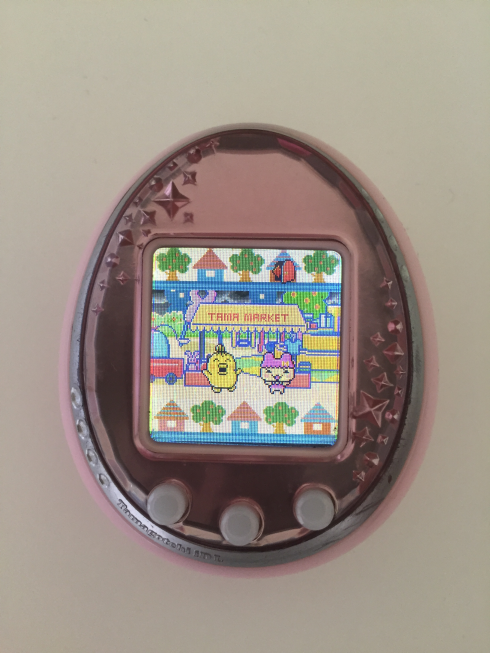 It's Kuchipatchi's mum! What she's doing here, I have no idea.
Items at the market are usually marked down by 30%, so I wanted to get a good deal. I accidentally ended up leaving by way of the C button with London in tow.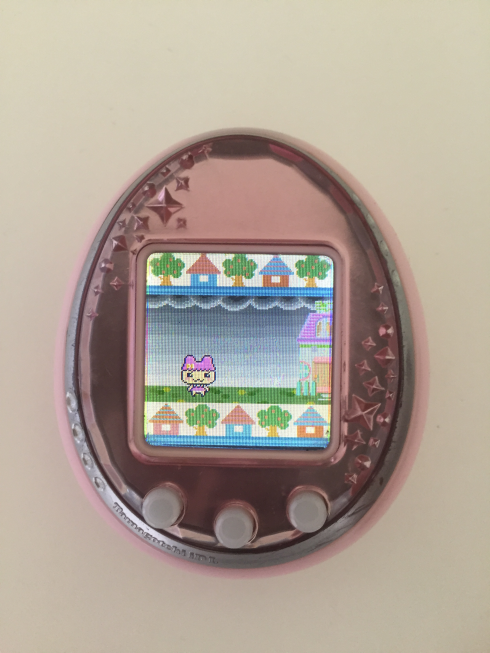 It was raining outside when I took this photo! Who knew Tamagotchi Planet had the same weather cycles... and timezone... wait a second.
We decided to visit again later - for now, it was off to the TamaDepa to get something I thought London would like. The hunt for her Tamatomo stamps was on! I rarely search for these without consulting a guide, so there was an exciting factor to our adventure.
I quickly swept into the accessories aisle, and bought London a pair of cat ears! It was time for the moment of truth...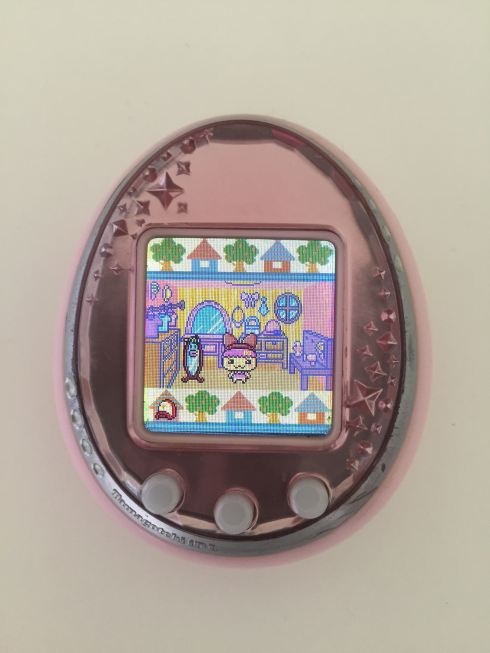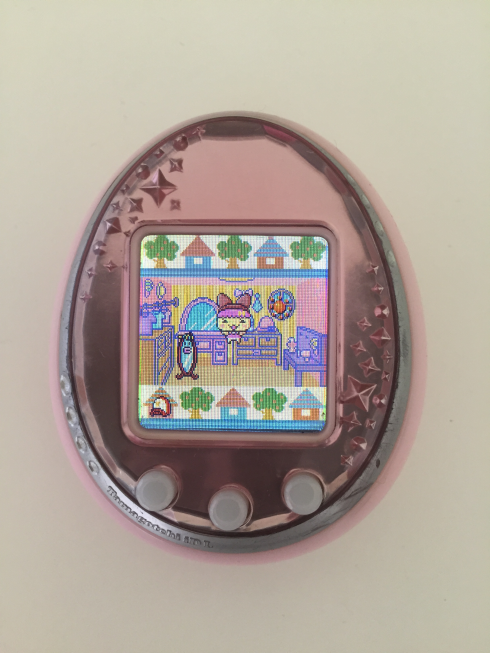 ...I mean, she's still happy at least?
Unfortunately, it was not meant to be. If your Tamagotchi's latest item/accessory/food is Tamatomo-worthy, they'd usually start jumping high in the air with hearts everywhere! But London was quite mellow. She still defied gravity in her celebration, though.
I didn't want to stop there, however - maybe an outfit was what London was looking for! We went back to the market again, as outfits can be super expensive: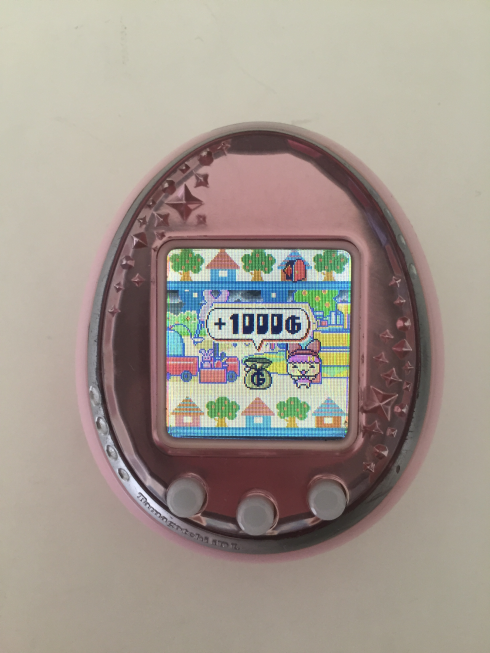 It's Makiko's mum! ...I just remembered that Makiko's name doesn't end in 'tchi'.
I was running low on money, so we sold off the Tamamori Tree item I got out of the toy seed I planted in London's backyard yesterday. Don't ask.
Anyway, we had enough money to buy London a lovely red kimono: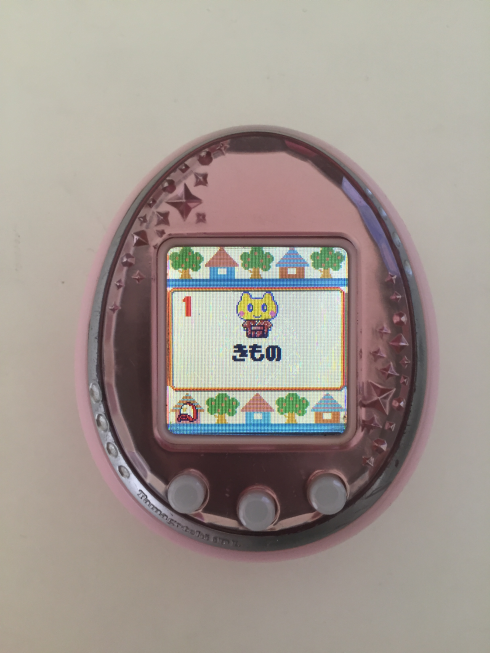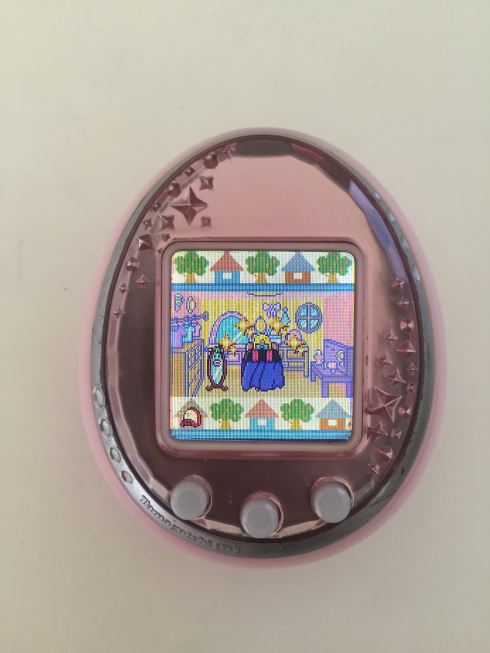 I forgot how fun it was to dress up your tamas on the iD L...
And thus the moment of truth began once again!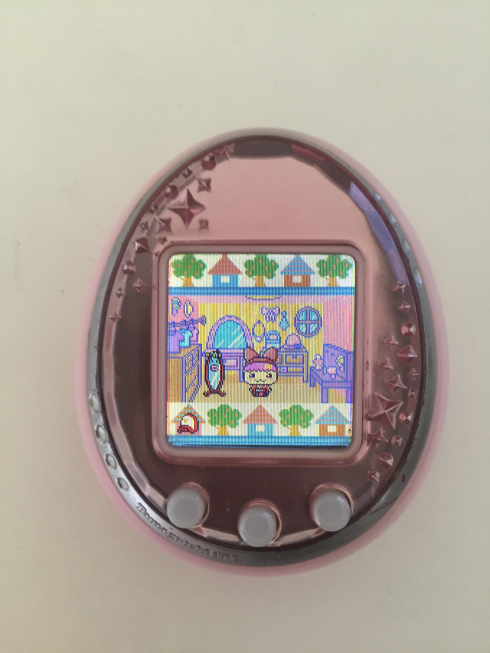 Guess what happened next.
...And yet it also was not meant to be! Not only had I spent a ton of gotchi points on two outfits that weren't Tamatomo-worthy, now London looked like a weird anime character. She didn't seem to mind though.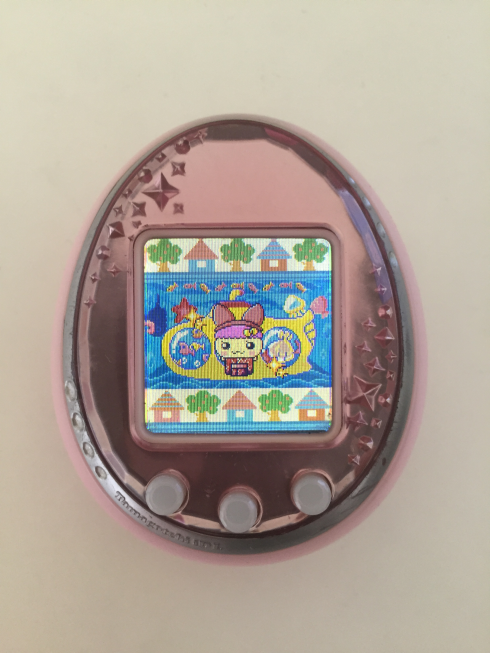 One last photo before the post gets too big...
I decided to stop our Tamatomo hunting there for now. I took London to the different locations in the food menu, but none of the meals and snacks there seemed to activate a Tamatomo Stamp... not even the sweetest treats around! 
...That, and it ended with me accidentally discovering Chamametchi's least favorite food. By then my pockets were totally empty. I'm sure I'm missing something here... maybe I should be more open to London's tastes and stop assuming that all she likes is pink stuff just by the colour of her ears? The irony is real.
Next post: more stamp hunting! Meeting a Tama-pet at the park enough times to create a bond with them and take them home... I missed those guys on the 4U and m!x, they were useless but I loved them anyway!