Joined

Mar 28, 2015
Messages

198
Reaction score

333
In some of the English games, you have Bill.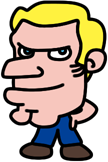 Someone at Bandai Japan must have liked Bill a lot, as the Hanerutchi is a version of the Ketai (Con.v3) where every single teen and adult is replaced by a variant of Bill (I think you can see what character it originally was by connecting to a normal Ketai) based on humans from a random comedy TV show. They even
turn into actual humans
when coming close to the screen...
Apperantly it sold well enough that they made a Hanerutchi 2 based on the v4. This one even had a Hanerutchi Town instead of Tamagotchi Town.
Does anyone have a clear idea what the idea and appeal behind this crossover was? The characters don't seem very unique...
Last edited by a moderator: