Robert
Just a refresher on what he looks like.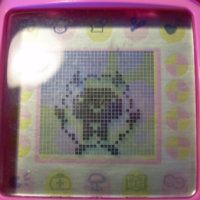 Modelling a bow tie!
I look rather dashing
don't I? Beautiful! Mwa!
No.
No.
Party poopers.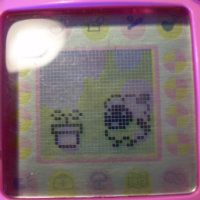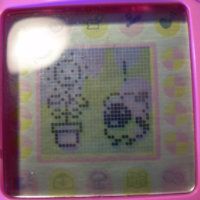 I grew a plant, and instead of delicious Gotchi points, I got a sun/flower/thingy!
Sunflower thingy? xD
Look at the slashes. See the slashes.
Okay, today's idea:
We're supposed to have a random party for no reason whatsoever.
A random party for no reason whatsoever requires....ICE CREAM CAKE!
I'll get it! *runs to DQ*
*1.29342938429838 seconds later*
I'm back with the ice cream cake!
*swallows ice cream cake*
o.o
What? I do have SOME Gourmetchi blood, you know.
I see...now what?
Now we order chicken wings, because every party requires chicken wings.
*dials number*
Hello, this is Bobbert's Chicken, all chicken, all the time, 24/7. Would you like to try our newest item, Chicken Banana Smoothies?
Um...no thanks. I'd like an extra extra extra extra extra large dish of chicken wings, grilled, add chipotle sauce, hold the pepper.
Alright. Your delivery will come soon.
Thanks. *hangs up*
Who's credit card are we using to pay?
I don't have one.
Neither do I, since I don't have any Gotchi points.
Mine was maxed out.
On what?
A piano.
They don't sell pianos on V3's.
Who said I had to buy it on the V3?
....
Well, Bob, I guess you're paying. Hand over the cash.
What? No!
*bored voice* We all know about your secret stash of money under your mattress. Hand it over or I'll do it for you.
*runs and gets money*
Thanks. *stashes in secret hiding place*
Now, the most important part of the party: the partying! Put on some music!
*hits play on TamaPhone*
And IIIII will always love yoooouuuuuuu....
...o.o That's not party music.
Oops.
HEY I HEARD YOU WERE A WILD ONE, OOOHHH SOMETHING SOMETHING I FORGOT THE WORDS
BETTER! Let's dance!
I WILL TOTALLY PWN YOU IN DANCING KFLSDJ FKJDF
OH YEAH? IT'S ON!
*dance battle ensues*
*eats popcorn*
OISJF ZIRJG IKRJG SDFJ SKEJFJFISOEJF OIEJS THERE'S SOME HAIR IN MY PUNCH
" Oops. It's some of my wool, sorry.
HA! YOU STOPPED DANCING! I WIN THE DANCE OFF!
Aw....D:
AS PART OF THE BET, YOU HAVE TO PUT ON A CHICKEN SUIT AND RUN OUT IN PUBLIC AND GO "I'M A MONKEY!"
*puts on chicken suit*
It's so stuffy in here.
Too bad. Go!
I'M A MONKEY I'M A MONKEY I'M A MONKEY!
Mua hahahaha! It is I, the evil Monkey Lord!
What the Hanatchi?
You chanted the Monkey Lord Summoning chant! So...you are stuck with me for eternity!
*comes out* Hi. *chew chew* Did you guys have the chips? *chew chew* Oh, hey, giant evil monkey dude. How's it going?
"Giant evil monkey dude"? HOW DARE YOU!!!! *rages*
FOR YOUR PUNISHMENT, I SHALL EAT ALL OF YOUR EGGS!
Noooo!!! Save the eggs!
MUA HAHAHA! *runs inside the house*
Get him!
OM NOM NOM NOM NOMMITY NOM NOM NOM *gobbles up eggs*
GET OUT OF THE HOUSE AND STOP EATING THE EGGS THAT'S MY BREAKFAST TOMORROW
TOO BAD! >:3
*whispers to Grace* Did I mention the Power of the Spaz can defeat him?
I SUMMON....THE POWER OF THE SPAZ! HAAA! LSIDFJ SKFIJS IDVJ SKDJV
*blasts Monkey Lord with spaz power*
NOOOOO!!!!
Ha! You are now trapped in a snowglobe from Alaska!
Nooooo!!!!
Too bad, so sad, nyah nyah ni nyah nyah! >:3
*yawn* I've had too much partying. I'm pooped. *collapses* SNORE SNORE HACK HACK SNORE
.....*awkward silence*
Well, time to end the post.
Thanks for reading! Give us a shout if you have any questions, comments, or ideas you'd like to see featured in future posts! (You will obviously be credited, don't worry.)
Have a great day!
....did anyone notice that the chicken wings didn't show up?
Aw, Dreamtchi. And I accidentally blasted Bob's money and it disintegrated.
Pfft....FAIL
EDIT: Whoops, sorry, forgot to add one thing: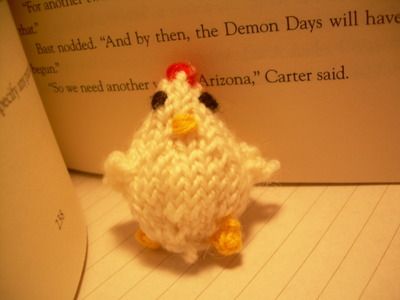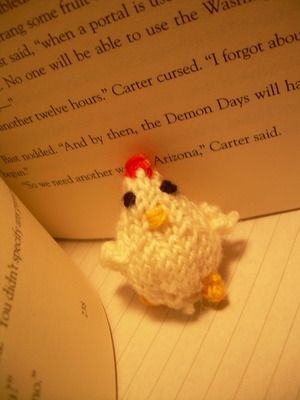 I knit this chicken yesterday using the pattern from Teeny Tiny Mochimochi (google it if you're interested). I need a name for him. :/ My friend suggested I name him Mr. McChicken. What do you guys think?
Ciao!
Edited by kuchipatchi.is.blue55, 09 July 2012 - 05:13 PM.