Joined

Jul 13, 2021
Messages

78
Reaction score

139
Location
so! i'm making a log! in the future i hope to include every tama (or other virtual pet) i get at least once here.
starting off with my first four!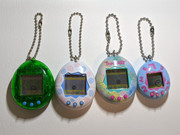 from left to right: a translucent green P2 from 1996 nicknamed mori
a white with swirls P1 from 1997 nicknamed naruto
a mermaid P1 rerelease from 2017 nicknamed george
and the blue with pink numbers mini from 2018 ( i believe) nicknamed fran. this tama was the first i bought for myself earlier this year!
to make taking care of four tamas at once a little easier, i set two of them to different times, so usually they won't all be awake at once. mori is set three hours earlier so that it wakes up when i do, and george is twelve hours earlier, which makes it nocturnal. i don't expect a mametchi from it, since i have to sleep sometime
. naruto and fran are both real time.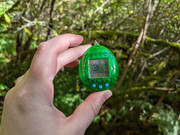 here's mori (now a tonmarutchi) and i in its namesake! for now i'm on track for perfect care with all but george
(i'm not sure why the pictures are so small? haha. i'll try and fix that for next time)
Last edited by a moderator: